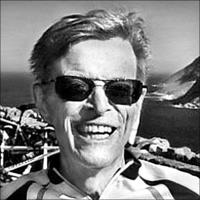 In the 1980s, Partners In Health co-founder and friend Thomas J. White funded PIH's first clinic in Cange, Haiti, and said, "For the first time in my life, I was able to give with complete confidence, knowing my donations would be used in the best possible way."
We remember Tom's impact and message through PIH's legacy society, Tom's Circle, which honors supporters who remember PIH and the people we serve in their charitable estate plans. Today, PIH is humbled to honor Tom's Circle member Dr. Ward Cromer (1940-2017). Dr. Cromer, like Tom, committed to doing "whatever it takes" to help alleviate human suffering and poverty.
A Massachusetts General Hospital psychologist and 26-year member of Harvard Medical School's Department of Psychiatry, Dr. Cromer believed every human deserves the right to high- quality health care. He was grateful for the quality of his own oncology and radiation treatments and wanted all people to experience the same dignity and respect, regardless of geography or socioeconomic status.
His lifelong commitment to medical social justice work and admiration of PIH's accomplishments inspired the Trustees of the Dr. Ward J. Cromer Charitable Trust to gift $1 million to lifesaving work across the continent of Africa. Together, in memory of partners like Tom and Dr. Cromer, we continue to build a movement for global health equity that will reverberate for generations to come.
 
For more information, please contact:
giftplanning@pih.org
857-880-5717